The Power and Purpose of a 40 Day Journey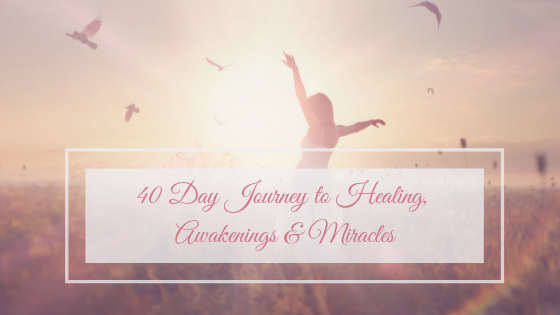 Benefits and Blessings of Committing to a 40 Day Journey
Focused intention and commitment to yourself for 40 days
Opportunity to awaken, re-discover and claim your divine power
A deeper understanding of who you are and why you are here
Enhancing your intuitive abilities to hear the wisdom of your soul and your angels
Insightful daily questions to overcome any blocks or resistance you may experience
Uplifting messages to heal and transform with support and unconditional love from Karen
Spiritual guidance to help you find the answers you seek
Receive Empowering tools to experience more peace, freedom and joy in your life
Visual and audio anchors to support you each and every day
Testimonials:
I didn't realize how much I was letting my ego control my life - reliving past hurts, and worrying about future maybes.  I've actually started enjoying each moment and each day (ok, maybe not EACH but you get the idea).  My Surrender Box is full of things I no longer worry about.  I trust that the Divine will take care of it for my highest and best.  And with the Breathing One with God, Spirit, Divine, etc., I really felt connected to them in my heart. I feel more at peace within myself. Thank you for offering this journey. This  was a truly profound experience for me. –Kat
WOW! I have learned decades of life lessons in the last 40 days. Although my beginning goals were good, how limiting! In this last 40 days I was an emerging butterfly. I felt the power of Karen's love expressed in amazing transformative teachings as she shared her wisdom and pain, healing from love and gratitude. I learned much about my own fears of rejection, self-criticism and how simple it is to fly once we let go of everything that is not from love and gratitude. Karen, thank you for your gift to me of a life, better than I know I could ever imagine. –Louise
I actually signed up for this "40-Day Affair with Your Self" without much thought or expectation. The daily emails became the highlight of my day. There were so many synchronicities of the perfect message for a particular day. I loved answering the self-reflection questions, and the messages from the Soul always hit me as so obvious yet at the same time so needed to be heard again. This was a great journey of putting common sense into common practice. Nobody can get enough self-love and I would do this journey again in a second. –Andy
I have discovered, through my work over these 40 days that I have spent my life being my own worst critic. I would never treat someone else the way I've been treating myself all these years and what an eye-opener that realization has become. My work with you has helped me to see and feel the difference. -Carol
Begin your journey today...start here!